Yayasan Pema Norbu Vihara (YPNV) or the Pema Norbu Vihara Foundation was set up in December 2015 by sisters Susan and Rita Sim. Practitioners of the Palyul lineage of Tibetan Buddhism, Susan and Rita became aware of and concerned about the confusion, myths and misconception surrounding Tibetan Buddhism and the lack of access to teachers and therefore the right practices, especially in their home country Malaysia. Susan shared these concerns with her friend Dzongsar Jamyang Khyentse Rinpoche, who suggested that she start a Tibetan Buddhist centre in Malaysia. He even suggested a name for the centre: Pema Norbu Vihara. Susan and Rita then got blessings from the late HH Penor Rinpoche to set up the YPNV and the blessing of the centre was conducted by HH Karma Kuchen Rinpoche.
the
Teachers
In Tibetan Buddhism, where oral transmission is one of the core methods of teaching, lineage is very important. By lineage, we mean that the current teacher/ lineage holder should be transmitting teachings that he heard from his teacher, who heard it from his teacher, all the way back to the original speaker, the Buddha. Authentic lineage transmission is essential for realisation, thus the lineage holders are revered and the master-disciple relationship is sacred in Tibetan Buddhism. Below, is an introduction to our lineage holders and teachers.
HH Kyabje Drubwang Penor Rinpoche (1932–2009)
The 11th Throne Holder of the Palyul Lineage
HH Penor Rinpoche was born in Kham, Tibet in 1932 and passed away at Namdroling Monastery in Bylakuppe, India in 2009. In those all-too-brief 78 years he was raised, educated, trained in and accomplished the highest traditions and practices of Tibetan Buddhism to become the 11th Throne Holder of the Palyul lineage until the time of his death. He was also the supreme Throne Holder of the Nyingma tradition of Tibetan Buddhism from 1993-2001. As a refugee in South India after leaving Tibet in 1961, he and a handful of monks set about constructing a new monastery, Namdroling Monestary, now one of the largest outside of Tibet. Moreover, His Holiness travelled the world tirelessly, inspiring students, establishing Palyul centers, and preserving and promoting Tibetan Buddhism from Asia to Europe to North America to Australia. He sat in his final meditation on March 27, 2009 and displayed many miracles at that time. He will always be remembered for his ceaseless care for all beings, borne by the two wings of pure compassion and perfect wisdom.
Penor Rinpoche's Yangsi
According to the Tibetan Tulku system, great teachers are reborn, to continue their work of liberating all beings from suffering. These Tulkus are usually custodians of their traditions and lineage. High profile Tulkus include the Dalai Lamas and the Karmapas. As the custodian of the the Palyul lineage, HH Penor Rinpoche, is one such Tulku. His Yangsi (reincarnated being) has been identified, and has been enthroned on 31 July 2014, a particularly auspicious day in the Tibetan Calendar.
HH Karma Kuchen Rinpoche
The 12th Throne Holder of the Palyul Lineage
HH the Fifth Karma Kuchen Rinpoche was recognized by HH Dudjom Rinpoche and HH Penor Rinpoche as the unmistaken incarnation of the previous Karma Kuchen Rinpoche, Karma Thegchog Nyingpo. He was invited to Namdroling Monastery where Penor Rinpoche looked after him and provided him with basic religious education. Karma Kuchen Rinpoche excelled in all the monastic training and mastered all the traditional knowledge of the Palyul Lineage. He also received numerous Nyingma Teachings from great masters such as HH Dilgo Khyentse Rinpoche and HH Penor Rinpoche. He was appointed by HH Penor Rinpoche as the Head of the Palyul Mother Monastery in Tibet in 1994. On 14 August 2000, he was formally enthroned as the lineage holder of the Palyul Tradition and is now the 12th Throne Holder of the Palyul Lineage. He is considered an embodiment of pure conduct in degenerate times due to his strict observance of the vows of a monk.
HE Khentrul Gyangkhang Rinpoche
The Fourth Gyangkhang Rinpoche was born in India. HH Penor Rinpoche, HH Dudjom Rinpoche and HH Dilgo Khyentse Rinpoche recognized him as the authentic incarnation of the Third Gyangkhang Rinpoche. At the age of four, His Holiness Penor Rinpoche invited him to stay in Namdroling Monastery and thereafter looked after him as his own child. He received the empowerments, oral transmissions and pith instructions on the whole kama and terma teachings (the distinct Nyingma Teachings of the Transmitted Precepts and the Rediscovered Treasure Teachings) from HH Dilgo Khyentse Rinpoche, Dodrubchen Rinpoche, Jadrel Rinpoche, Khenpo Jigme Phuntsok Rinpoche, and Nyoshul Khen Rinpoche. He specially received the distinct teachings of Palyul Tradition including the Namcho Teachings from HH Penor Rinpoche. In 1995 HH Penor Rinpoche bestowed him the title of a "Tulku Khenpo" and recognized him as a worthy dharma teacher who can guide others towards the path of enlightenment. He is currently teaching in the Ngagyur Nyingma Institute (Shedra) and assisting HH Karma Kuchen Rinpoche in shouldering monastic responsibilities.
HE Mugsang Kuchen Rinpoche
Mugsang Kuchen Rinpoche was born to Penpa Dorjee (father) and Sonam Yangzom (mother) in Nepal, on the tenth day of the fourth Tibetan Month with miraculous signs. At the age of two, HH Dudjom Rinpoche and HH Drubwang Penor Rinpoche recognized him as the unmistakable reincarnation of Chogtrul Kunzang Sherab. From the age of three, Penor Rinpoche looked after him with great compassion and care. He received the Kama Empowerments, instructions on Ngondro, Tsa Lung and Dzogchen directly from HH Penor Rinpoche.
Khenchen Pema Sherab
Khenchen Pema Sherab was born in 1936, at Riphu, a place in Dege Jomda, in the Kham Province. In 1959, he fled from Tibet to India and met HH Dilgo Khyentse Rinpoche, from whom he received most of his teachings. In 1968, HH Penor Rinpoche invited him to come to Namdroling to teach the Dharma. He has been teaching there since, first informally before the establishment of the Nyagur Nyingma Institute, and then as teacher of the Institute since its inception in 1978. He has also written many books on Buddhist philosophy including a biography of Guru Padmasambhava, An Exposition on Two Truths, Lorig and Tagrig, Sun of Mind; An Exposition of Logic and many others, in the hope of preserving the dharma for future generations.
Khenchen Namdrol
Khenchen Namdrol was born in 1953 at Dege to Tsedrung and Choetso. At the age of seven, in 1959, he fled Tibet and reached Bylakuppe, South India. After receiving teachings from Nyoshul Khenpo, a great Dzogchen Master and Mipham Rinpoche, he went to Sikkim for five years, where he received teachings from Khenpo Tsondrue. At 25, he returned to Namdroling Monastery and has been a key person in administering and teaching at the Ngagyur Nyingma Institute since its establishment in 1978. In 1983, HH Penor Rinpoche conferred the degree of a Khenpo on him. In 1998, under the guidance of HH Penor Rinpoche, Khenchen Namdrol established the Palyul Retreat Center, Samten Osel Ling in Pharping, Kathmandu Valley, Nepal. Khenchen now spends much of his time at this centre, as well as teaching abroad and at the institute.
Khenchen Tsewang Gyatso Rinpoche
Khenchen Tsewang Gyatso Rinpoche was born in 1954 in a village near Lhakhang Dzong in the southern region of Tibet bordering Bhutan called Lhodrak. From his birth, his parents had a strong feeling that they should place him in the nearby monastery of Nub Namkha'i Nyingpo. The head lama, Namkha'i Nyingpo Rinpoche, was the tulku of one of the twenty-five disciples of Guru Padmasambhava. In 1962 Khenchen and his family fled to India. He took on the robes of a monk at the age of ten and went on to graduate with the degree of Acharya in 1978. After graduation he was invited to teach at Palyul Namdroling Monastery. In 1983 he was enthroned as a khenpo by the late HH Penor Rinpoche. In the Nyingmapa tradition, a khenpo is a professor of Buddhist studies. He has received all of the major lineage empowerments and transmissions of the Nyingmapa school from the late HH Penor Rinpoche. He has done intensive dzogchen practice under the guidance of HH Penor Rinpoche and other eminent masters including Khenpo Jigme Phuntsok Rinpoche and Nyoshul Khen Rinpoche. The last HH Penor Rinpoche has authorized him to represent the monastery, to teach, to confer empowerments and to give personal instruction in Buddhist practice. Khenchen has traveled and taught extensively in America, in Taiwan, and among the overseas Chinese communities in Singapore, Hong Kong, and the Philippines.
Resident Lamas


of the

YPNV Centre

Our resident teachers lead the pujas and give regular dharma talks at the YPNV centre. They also offer Tibetan Language classes.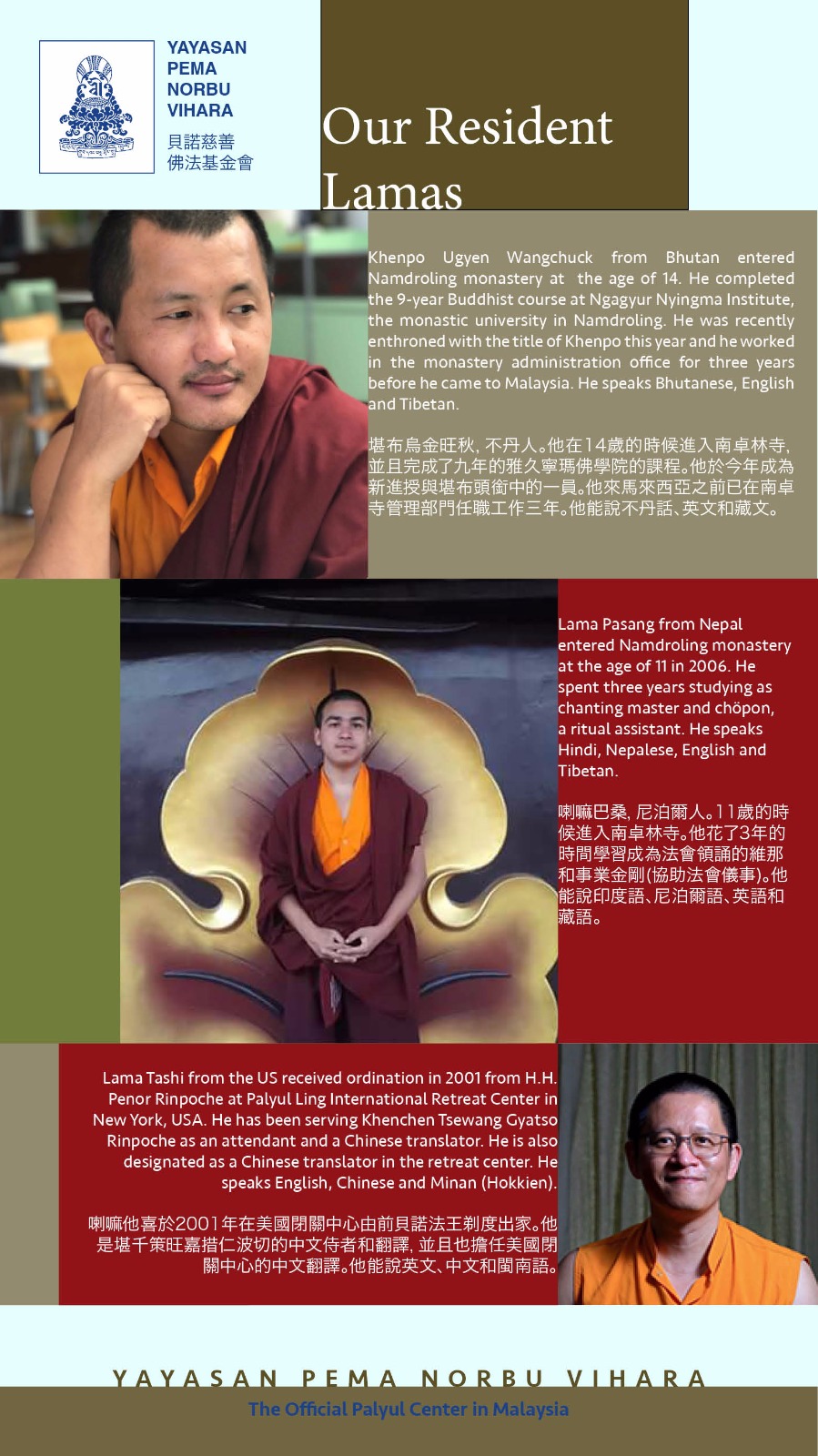 Background Photo Credit: Untitled via Pixabay